News from the students
What experiences do the interACT students make abroad? How do they live? What do they do? In January 2015 we start again with our tradition of introducing our current students abroad.
August 2012 - Narine Kokhlikyan - CMU SV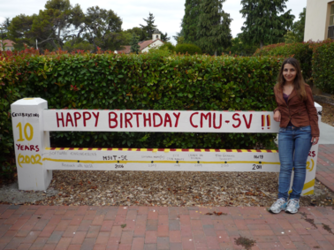 I am a computer science student at the Karlsruhe Institute of Technology(KIT), currently writing my master's thesis at the Carnegie Mellon University in Silicon Valley. My thesis is about speech summarization, and my adviser at the CMU SV is Joy Ying Zhang, who is a specialist in Natural Language Processing and Machine Learning.
CMU SV is a small campus located at NASA research park in the town of Mountain View. Many known companies such as Google, Apple, Facebook, Microsoft etc. have headquarters in Mountain View. The closest big city is San Francisco. The surrounding areas have many beautiful places and offer many opportunities for relaxation and entertainment. Public transportation consist of bus, train and light-rail systems but it is not accessible everywhere. The best options are car or a bike. Unlike the other north American cities Mountain View has many bike lanes, which makes bicycle a good choice for short distances commute. People in California are very friendly and helpful. I have got a lot of help in finding accommodations and local amenities, which I really appreciate.
During my stay here I have got wonderful opportunities to take part in variety of technical presentations, meetings, talks and meet many experts in different areas of Information Technology. Overall I really enjoy my stay in California. It is a great experience and I would like to thank everyone who made this possible.
July 2012 - Dominik Messinger - CMU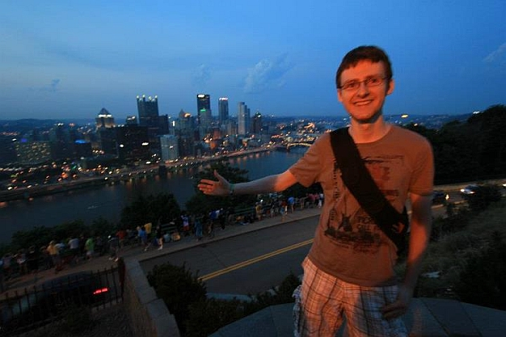 Like many of the students whose texts you can read right below mine, I am a CS student at Karlsruhe Institute of Technology and find myself in the lucky position of writing my bachelor thesis at Carnegie Mellon University in Pittsburgh, Pennsylvania.
The field I am working in is Software Engineering. More precisely, the topic is about code offloading in areas where the Internet is not so good or not working at all. Code offloading means letting stronger servers doing the tasks your smartphone cannot do (or just _very_ slowly). iPhone's Siri is the most prominent example of this technique. My professor in Karlsruhe is cooperating with the Software Engineering Institute, so this is the place where I am compiling my thesis. The SEI is quite famous for its achievements in software engineering and aims to bridge the gap between the worlds of academia and industry.
Pittsburgh itself is a great place to be, there are a lot of restaurants and bars in Oakland near the campus. For living, Shadyside and Squirrel Hill are probably the number one neighborhoods. Although, I have not attended any classes at CMU, I use the possibility of going to the University Center which offers great sports facilities for free. Squash is one of my favourites, but tennis, swimming or simply playing pool are attractive alternatives.
Since I came here, I could make a couple of friends. Not only people from Karlsruhe or Munich but also people from India, Japan, China, Thailand, Iran and America itself, of course. So I found a truly multicultural environment whose richness in diversity I really enjoy.
In general, going to the USA and getting to know its culture is a nice experience. Including all the tourist activities; I have been to New York City, watched the fireworks on 4th of July, went White Water Rafting and saw President Barack Obama on the CMU campus in Pittsburgh. Well, and the rest of the time I have been working on my thesis as well...
So thank you interACT, and to everyone who is interested in the interACT program and likes to go to the USA, Japan, Italy, Germany or China: Do no hesitate, the experience you get is worth it.
June 2012 - Michael Heck - NAIST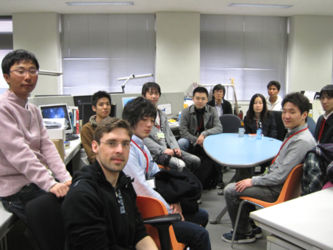 I am a student of computer science at Karlsruhe Institute of Technology (KIT) and I am staying at the Nara Institute of Science and Technology (NAIST) in Japan in order to write my diploma thesis. My field of research are methods for unsupervised and lightly supervised acoustic model training. Therefore, the Augmented Human Communication laboratory of Prof. Nakamura provides excellent conditions. The permanent supervision by several research team members as well as the close contact to the lab's students displays a very team-oriented way of working and is an important support in solving issues, may they be related to challenges in Japanese daily life or research. The overcoming of language barriers in both directions, English and Japanese, is getting easier with every new day, as the Japanese students are very eager to improve their skills, so it poses a real challenge trying to emulate their pace of improvement for my own skills in Japanese.
The joining into the interACT program follows NAIST's clear intention to seek international cooperation and to invite students from all over the world to join its ranks. This manifests in the provision of several lectures and seminars in English language, as well as in services like free Japanese language courses for enrolled international students and comfortable housings. Long-term residents have the opportunity to live in very reasonably priced dormitories, whereas short-time visitors like me are invited to use the university's own guesthouse, both being located directly at the campus site. 
NAIST provides its students with various amenities such as a canteen with daily varying menu, a cafeteria, a shop and a fitness room. You can do all kinds of sports soccer, basketball, volleyball, or joining a Kendo club or even a tea ceremony group alike. 


NAIST is located in Nara prefecture, which is part of the Kansai area, located in south-western Japan. This region is commonly referred to as the origin of Japanese culture. The bright history of Nara legitimates these claims. Besides the Kanto region all around Tokyo, Kansai is one of the two massive agglomeration areas of Japan, being inhabited by more than 24 Million people. NAIST is being embedded in a more rural area, close to the city of Ikoma. The campus is surrounded by forested hills and is close to original Japanese housing areas. Thus, the image a foreigner like me gets of Japan if he is located in this place is more of a genuine nature. I clearly prefer this over the general living conditions of the many mega cities. 


The four surrounding main cities, Osaka, Kyoto, Kobe and Nara are accessible within less than one hour each, thanks to a highly extensive local transport network. The modern and open-minded Osaka is the place to be for socializing, shopping, night life, music and concerts as well as original Kansai food, whereas Nara and Kyoto offer deep insights into the history and roots of Japan and it's multifaceted and intriguing culture. The former is famous for its deers and the Todai-ji, a huge temple and the world's largest building solely made of wood, the latter offers more than 2000 temples and shrines, of which many are among Japans most famous attractions and symbols. It is very exciting to travel to all those cities and their surroundings again and again and each time receive myriads of new impressions. 


Having the opportunity to spend my days in Japan for these six months in the context of my research is nothing less than a dream coming true. I am excited to keep on exploring this amazing country, getting to know so many interesting people and to hopefully further improve my language skills during my stay.

May 2012 - Matthias Sperber - NAIST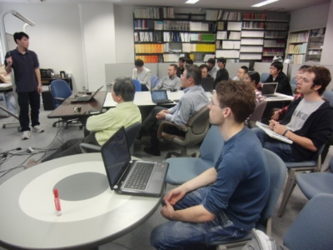 I am a student of computer science at Karlsruhe Institute of Technology (KIT), and currently staying at the Nara Institute of Science and Technology (NAIST) in Japan, as part of the interACT exchange program. I am at Prof. Nakamura's "Augmented Human Communication" lab, with lots of different research activities including speech recognition, which I have chosen as my field of research for my master's thesis. Being here, I enjoy the very team oriented Japanese lab style, as well as the close supervision by Nakamura-sensei and the other research faculty. The students are all really nice and welcoming towards me as a foreigner, and also eager to practice their English skills with me. I in turn try to improve and practice my Japanese as well, although currently this doesn't go much beyond the daily small-talk situations.
A word about NAIST: it is a small graduate school of about 1000 master's and doctoral students divided among biology, material science, and computer science courses. Despite its small size, it has an excellent reputation in Japan, and appears to be a very active place with lots of research activities. There is also quite some effort to make it attractive to foreign students and researchers, such as classes being taught in English, or scholarships. The accommodation offered at NAIST is very convenient: I am staying at the guesthouse which is sort of like a hotel for visitors to the university, but with furniture and a small kitchen. There is also the option of staying in the very inexpensive dorms. Both guesthouse and dorms are located right on the campus. As for food, I usually cook at home or use the university cafeteria. Some of the students have cars, so we also eat out quite regularly. There are many sports facilities on the campus as well, including tennis, soccer, and volleyball courts, a gym, etc., all extensively used by the students. It is also possible to experience some of the traditional Japanese activities, e.g. there is a tea ceremony club where students learn how to properly host a tea ceremony (or just go to a ceremony as a guest). Besides these activities, there are also many events at the lab: we recently held a barbecue, and also joined for a picnic in a park during cherry blossom season.
The NAIST campus is located a bit outside the city in a hilly area, so it is very quiet around here. Nevertheless the amazing Japanese public transportation system makes it possible to travel to the big nearby cities (Osaka, Nara, Kyoto) in less than an hour, which I personally make use of every weekend. Osaka is a large, active city with lots of possibilities for going out. My favorites are the typical Izakaya-bars where in addition to the drinks, a variety of food and snacks is served and shared within the group, and also the karaoke bars, which are lots of fun: every group gets their own booth where they can take turn singing their favorite songs.
Kyoto and Nara, in contrast, are some of the nicest places for sightseeing in Japan, with lots of historical sights, temples, parks, castles, and so on.
All in all, I am glad to be here, and grateful to be able to experience Japanese student life and to get to know more about the fascinating Japanese culture.
April 2012 - David Oertel - CMU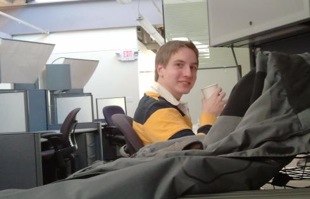 I am a Computer Science and Math student from Karlsruhe Institute of Technology currently working at Carnegie Mellon University (CMU), Pittsburgh, where I am writing my diploma thesis on optimization problems concerning the enhancement of High Voltage Transmission Grids. My advisor Prof. R. Ravi from Tepper School, who is a specialist on approximative algorithms and optimization theory, is very helpful and supportive with all my research. I am glad to have him as my advisor for this very interesting and interdisciplinary topic, which was inspired by a cooperation with a Frauenhofer Institute, Karlsruhe, Germany.
CMU is renowned for its excellence in science, especially Computer Science, but furthermore it is also a very great place to be. It is very exciting to meet friendly students from all over the world. Whenever there is time, I like to benefit from the various programs you can participate during your leisure time. E.g. this includes the local sport facilities to play squash, soccer or doing work outs, numerous movie nights in one of the bigger lecture halls or theatre plays from the drama school.
If you manage to get along with the "mediocre" public transport system, Pittsburgh offers a whole variety of activities. Especially fans of sports are invited to follow the local clubs like the Steelers (American Football) and the Penguins (Ice Hockey). For other people it may be interesting to check out one of the local museums and parks. Moreover, Pittsburgh is not too far away from many more interesting places to visit within the north east of the US: e.g. Niagara Falls, Toronto, Boston, New York and Washington D.C.
All in all, I am very grateful to be part of this fantastic student exchange program.
April 2012 - René Weinert

- CMU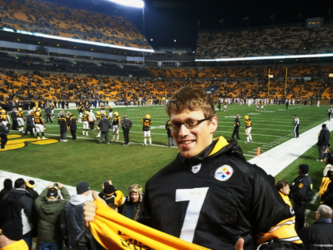 I am a student of Information Engineering & Management at Karlsruhe Institute of Technology Karlsruhe (KIT) and I am staying at CMU for five months now in order to work on my master's thesis. The title of my thesis is "Experimental Evaluation of Cloud Storage Trade-Offs". My professor at CMU provided me with an own office and he is very helpful and always available when I ask for advice or for a second opinion about my work. I am not involved in the daily research work of his group, however I gain a lot of insight about that in our weekly lunch meeting. Even the atmosphere of being at CMU alone is very inspiring as it is an environment where many smart people are working very hard.
But CMU also has a lot to offer besides the daily working environment. Admission to the gym is free and I started playing squash with my fellow exchange students on a regular basis. Interesting people like the directors of the World Bank and the CIA come to deliver speeches every once in a while. And there are many more possibilities to spend your leisure time on campus like a great university cinema, many excursions, etc. I hang out a lot with the other interACT students as we meet for lunch daily, often go out on the weekend, and even did a trip together to Miami over Christmas.
Pittsburgh itself is a nice little city where it's very easy to get around by bike and CMU lies in an area where you have almost everything you need in your daily life - I rarely leave the neighbourhood if it's not for exploring the surrounding areas or attending a sports event. As a big sports fan I was amazed by the excitement of the whole city for its outstanding local teams like the Steelers (Football), Penguins (Hockey), and Pirates (Baseball), and quickly became a fan myself. One of the greatest things for an exchange student about Pittsburgh, however, is its location in Western Pennsylvania: New York City, Philadelphia, Washington DC, Toronto, and the Niagara Falls are all in weekend-trip distance.
All in all it has been a great experience coming to Pittsburgh for my master's thesis and I'm very thankful to interACT and the Baden-Württemberg-Stipendium for making this possible. Don't miss out the opportunity to spend some time abroad - especially if you're about to write your final thesis and this therefore is your last opportunity to do so!
February 2012 – Henning Sperr - WASEDA
  
I am studying computer science at Karlsruhe Institute of Technology and I am currently writing my study paper in the field of machine translation at Waseda University in Tokyo, Japan. I′m trying to build a lecture translation system, which runs on a robot of Prof. Kobayashi′s laboratory. This robot should be able to translate the lecture and listen to conversation of an English lecturer and Japanese students trying to see if there is a problem in the communication. If a problem is detected the robot tries to ask if his translation skills are needed.
I arrived at the lab December 2011 and going to stay at the laboratory of Prof. Kobayashi until the end of March 2012. When I arrived everybody was very supportive and welcoming. My supervisor Mr. Fujie-san showed me the lab and introduced me to everybody. The lab is a big room where the room of Prof Kobayashi is separated through a glass and the other research assistants have their own working booths nearby the windows. The rest of the room is full with long tables where the students are working. There is also a space where you can do experiments with the robot. Most people are working in the field of image/speech recognition or web services.
Waseda has a museum inside a building that looks like a German Fachwerkhaus. The Campus offers many different activities such as soccer, lacrosse, dancing, singing, chess and many more and there is a gym, too. Every month the International Office organizes an event which exchange researchers can attend for free, for example a Christmas jazz party or a Valentine′s tea party or bowling. Being in Japan is one of my big dreams and being able to work here and participate in social life is a great opportunity for me.
Tokyo is a gigantic city with many different interesting places to see. You can make a lot of day trips to the outer regions of Tokyo. The students and I are planning a weekend trip to Kamakura and Hakone before I am leaving. It is a great honour for me to be here and I want to thank the people from the interACT program and everyone who was involved in making this possible for me.
January 2012 - Emil Rakadjiev - CMU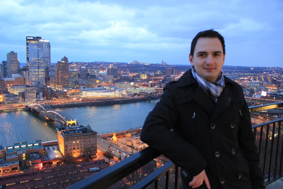 I am a computer science student at Karlsruhe Institute of Technology, currently doing my master's thesis (Diplomarbeit) at the Parallel Data Laboratory at Carnegie Mellon University. The aim of the project I am involved in is to improve the scalability of the Hadoop Distributed File System for very large clusters and/or very big data by distributing metadata and related functionality among the nodes, instead of having a single metadata server.
The interACT team, my advisors at KIT and CMU, our admin at the lab and the other exchange students have all helped a lot during the preparation and also during my first days and weeks in Pittsburgh, for which I would like to thank them. The other students, who arrived before me, provided me with useful information and I could even stay at the apartment of one of them, until I found an own room.
The best place to look for accommodation is Craigslist. It is worth visiting many houses, because there is a big variance in quality and prices. Judging by my experience, the rents of the better rooms/apartments are higher, and the average condition of the houses is worse than in Karlsruhe. Nonetheless, I have found a very nice place to stay.
As you may suppose, CMU is a great place to be. The people I am working with and whom I have met are very professional and friendly, the working conditions are great, there is close collaboration with the largest IT companies and there are lots of interesting seminars and presentations to attend. Furthermore, the sports facilities are very well equipped and various free-time activities are offered, like e.g. sports courses, outdoor recreation trips, movie projections, etc. Although Downtown Pittsburgh and the neighborhoods around CMU are not very spectacular (at least compared to some larger, surrounding cities), the city offers a lot of different things to do and explore. You just need a bit more time, patience and luck, when getting around by public transport.
All in all, I am very grateful that interACT made it possible for me to do my thesis at CMU and I am sure that participating in this exchange program will be a highly rewarding experience both professionally and personally.
December 2011 – Markus Roth - USC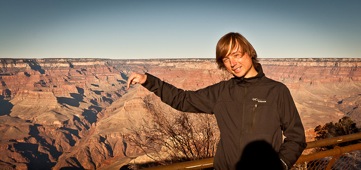 I'm a Computer Science student at the Karlsruhe Institute of Technology, Germany, visiting the University of Southern California in sunny Los Angeles. I am writing my Study Thesis in the domain of Computer Vision at Prof. Nevatia's lab at USC.
The system I'm designing is able to track faces in multimedia video data. It merges face detector responses to tracklets based on different affinities, resulting in continuous trajectories that are able to tackle occlusions and possible ID-switches.
I came to Los Angeles end of October, with the plan of replacing the German winter by the Southern Californian climate.Indeed, the weather here is great. The sun shines nearly every day and in case there's rain, it only lasts for one day. California is so eclectic in terms of landscape and people. You can find everything from high mountains to deserts and the Pacific Coast. People here are from all over the world, resulting in a nice diversity of cultures.
Los Angeles is tremendous, although the relevant districts for me sum up to "just a few times" the area of Karlsruhe. There's nothing missing in LA: skyscrapers in Downtown LA, 12-lane (or more) highways being completely crowded, big malls, small shops, celebrity mansions on the hills, small houses in residential areas, parks (okay - just a few), beaches (Santa Monica, Venice, Malibu). Despite being in a metropolitan area, there are many nearby possibilities to escape the cars, smog and concrete. I'm living in West Hollywood and just a few minutes away from hiking trails in the nearby mountains.
Being at Prof. Nevatia's research group brought me many rich experiences. Everybody is very welcoming, friendly and nice. Not only do my colleagues over here do a great job, they helped me a lot understanding American culture (if that's possible :P ) and their own cultures.
When going home after a "good-bye California" road trip, I'll be looking back on a pleasant half-year stay regarding both my research work and everything else I've perceived over here.
November 2011 – Till Neudecker - CMU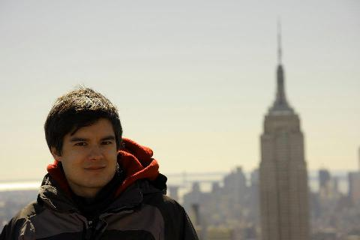 Since October 2011, I am writing my student research paper at CMU Pittsburgh. After my arrival I stayed at another interACT student's apartment for the first days until I found a room on craigslist. My professor's working group was very welcoming and I really enjoy the weekly meetings with delicious Asian food – sponsored by the professor. My professor also introduced me to another project with Texas Instruments, which I am working on now, too. Doing the project and the student research paper is pretty time consuming but a great experience though.
With my fellow exchange students I made a short weekend trip to Toronto and the Niagara Falls, which were very impressive. We also spend one week around Christmas in Miami Beach and at the Everglades. Playing beach volleyball and canoeing through the Everglades at 27°C in the middle of the winter was really awesome. Getting back to work after this trip, however, was a bit of a challenge…
For lunch I regularly go to the Indian and Mexican place at one of the CMU cafeterias. Food there is very delicious and comes in large quantities. As there is no Track & Field training during the winter, I go to the gym, which can be used by every CMU student for free. In the evenings, Hemmingway's is a decent place to go located in Oakland pretty close to CMU. Hemmingway's is a real college bar where lots of Pitt students tend to go to. For the weekends, Southside is the place to go as there are plenty of bars and clubs.
So far, I have really enjoyed my stay at CMU. Although there is always plenty of work to do, there is still enough time to enjoy life in a great American city. I can really recommend to study abroad with interACT, even if it might be faster or more convenient to stay at home – you'll miss a great experience! I'm now looking forward to going to New York before I'll fly back to Germany. Thank you!
October 2011 - Ralf Huber - CMU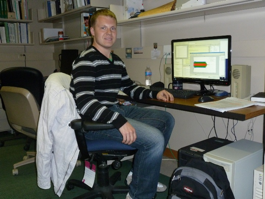 I'm Ralf and I am a computer science student at Karlsruhe Institute of Technology (KIT), but I am currently working on my diploma thesis at Prof. Stern's lab at Carnegie Mellon University in Pittsburgh, Pennsylvania, USA. In my study thesis I evaluated a method to remove reverberation from recordings of single sinusoidal sounds with constant frequency. Reverberation poses a serious problem for speech recognition systems because the quality of the speech recognition decreases rapidly as the distance from the speaker to the microphone increases. The focus of my dipoma thesis is to find out whether the method can be modified for use on real speech recordings in order to make far-distant automatic speech recognition more robust.
I arrived in Pittsburgh in September 2011 and everybody here has been very helpful and friendly-both the people in the InterACT lab and also everybody of the Robust Speech Recognition Group. Prof. Stern showed me around on the Carnegie Mellon campus and he made sure that I could get started with my work as soon as possible. He also offered me a desk in his lab rather than in the InterACT office, so I can work on the same floor with all the other members of the Robust Speech Recognition group. The group is very international with students and employees from all over the world, including countries like India, Mexico and Japan. Furthermore, there is a group meeting once every week, where we discuss everybody's recent work. These meetings are very interesting for me since I can learn something about the problems that other people are facing and how they solve them-even if it is not direcly related to my own work. Additionally, former group members or guests from other universities occasionally attend the meeting as well and give talks about their current work.
In my free time I have already explored some of the parts and neighbourhoods of Pittsburgh. Since the 2011/2012 winter was very mild compared to average winters in Pittsburgh, I could ride my bike to the campus and back home almost every day. When the weather is not so good it is still possible to use the free gym and athletic facilities provided by CMU. Admission to some of Pittsburgh's museums is also free for CMU students, for example to the Pittsburgh Natural History Museum, where the world's first ever discovered skeleton of a T-Rex is on display. Additionally, Pittsburgh has a lot to offer for sports fans and so I could already attend a hockey game of the Pittsburgh Penguins and a football game of the Pittsburgh Steelers. Before I will return to Germany in April I am looking forward to attend CMU's largest annual event: the sweepstakes. The sweepstakes is essentially a high-tech soapbox race, where racing buggys are pushed on the uphill sections of the racing course by members of the racing team and then driven downhill powered by gravity.
Overall I had a great time here in Pittsburgh so far and I am very thankful for this opportunity. I would like to thank everybody from the InterACT-team in Karlsruhe and Pittsburgh and, of course, my advisors Prof. Stern, Prof. Waibel and Florian Kraft for their support and for making this stay possible.
September 2011 – Johannes Ernesti - USC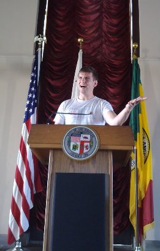 I am studying mathematics and computer science at the Karlsruhe Institute of Technologie and I have been working on my study thesis about machine learning at the University of Southern California in Los Angeles. Working together with Prof. Schaal and his lab staff was a great experience since they are very motivated and successfully while creating a relaxed and comfortable atmosphere at the lab. On the one hand I learned a lot about the subject of my thesis itself and - more importantly - on the other hand I got an impression how everyday life inside a research lab does look like.
Apart from working, the University and the city of Los Angeles offer lots of recreational activities. There are an athletic ground, a gym and a pool on campus that can be used by students and lab staff. In addition, one can attend the free concerts or just relax at Santa Monica beach after exploring the Walk of Fame in Hollywood. Because Los Angeles is a extensive city having a car comes in quite handy. However, the public transport works better than I expected. So the only time I really needed a car was during the road trip to San Francisco, Yosemity and Death Valley National Park and Las Vegas.
I can highly recommend to participate in the interACT exchange program! It offers a great opportunity to get in touch with other researchers all over the world while still giving enough leeway to travel around and visit interesting places.
August 2011 – Jochen Weiner - CMU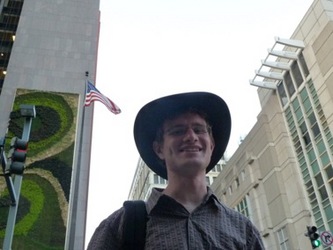 I am a computer science student at the Karlsruhe Institute of Technology in Germany and I have done the research for my Bachelor thesis at interACT's CMU lab in Pittsburgh in 2011. Under the supervision of Florian Metze I have been working on the integration of language identification into the decoding process of code-switching automatic speech recognition.
I enjoyed working at the lab in Pittsburgh. I really liked the good working atmosphere and the friendliness of the people who work there. Dr Metze was really supportive of my work, Roger always helped me out with technical (read: Janus) problems and everyone else just made me feel welcome. Outside the lab I have enjoyed the meetings with other members of the university and the good talks at the pizza meetings. I reckon the good atmosphere around CMU definitely helped me achieve the good results that I achieved.
Besides the work I have also been able to make use of my base in the United States in terms of exploring (at least parts of) this continent. The public transport in Pittsburgh is really good for a US city and has a good connection to the airport. Flights within the US are reasonably prices, too, so that I also got to see some places further away from Pittsburgh. Unfortunately buses to the airport don't run all night – so be prepared to spend a few hours at the airport. Just in case your flight back to Pittsburgh is delayed by a few hours and you get there in the wee hours in the morning...
I really enjoyed my stay in Pittsburgh and I am grateful for all the support that I have received from the interACT staff and the people at CMU.
July 2011 – Marcel Revfi - CMU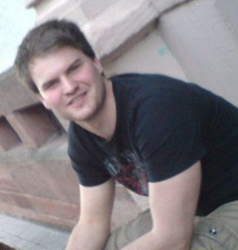 I am studying computer science at KIT. I wrote my study thesis with a four-month scholarship at Carnegie Mellon University in summer 2011. The topic was about human motion capture. After finishing my first advanced course "Robotics and Automation" I decided to integrate a semester abroad into my diploma study course. I asked for a study thesis in cooperation with interACT at the same institute I finished an exam before.
I used CouchSurfing to find a place to stay for the first couple of days in Pittsburgh. During this time I spent the whole day to search for housing via craiglist. The neighborhoods close to the University, Squirrel Hill and Shadyside for example, are first choice. The bus system in Pittsburgh is very dense. The buses drive high frequently and they stop at every important road junction. However, as a scholar, one will not be able to drive this public bus for free. But there is a free shuttle service offered by the university its route passes the main neighborhoods. Owning a bike is useful to do spontaneous shopping for example or to go out at night.
The CMU campus is really great. It offers a lot of sport activities, some libraries with cafés to study and to enjoy the leisure time as well as many dining locations with different kinds of national and international food. One can use the swimming pool and the gym for free. I worked in the office of Disney Research Pittsburgh located in the Collaborative Innovation Center. I got my own desk with a computer and I used the motion capture laboratory. It was a very friendly work climate with two kitchens where one can take care about his own wellbeing with coffee, drinks and snacks. A tradition in this office is, that everyone who comes back from a vacation, puts some original food from the country where he had been in the kitchens.
In order to explore the surroundings of Pittsburgh I rented a car for one day. It was really amazing to drive the highways and to approach the big shopping malls. There are a lot of opportunities to enjoy sight seeing via bus, too. Besides Waterfront Shopping Mall and Mount Washington in Pittsburgh, I traveled to the Niagara Falls, for example. Before I went to Pittsburgh by train, I spent two weeks in New York. Breathtaking city everyone has to experience!
Finally a small advise: There is a great shuttle service, which drives from the Pittsburgh Airport directly to CMU, during the whole day. It's just about 3 bucks. The drive lasts 45 minutes. So, please don't take a cap.
May 2011 - Henrich Kolkhorst - CMU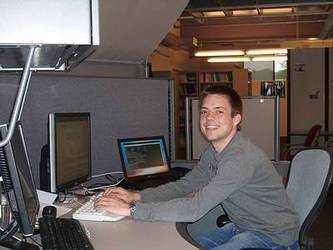 I am a computer science student from Karlsruhe Institute of Technology and currently compiling my bachelor thesis about hashed language models at Carnegie Mellon University in Pittsburgh. I've arrived here at the beginning of April and will be staying for four month, hence I can offer my impressions after the first few weeks.
The people in the lab have been very welcoming and helpful and the environment is very international and productive. While most of the people in the lab are working on speech recognition and machine translation, there are also many interesting talks on campus by renowned scientists from a wide variety of topics.
Pittsburgh is a nice and diverse city, especially the Oakland neighborhood, where the interACT lab and both the campuses of Carnegie Mellon University and the University of Pittsburgh are situated. The CMU campus with free-of-charge pool and gyms, the Carnegie Museums and several restaurants are within walking distance of the interACT lab. Additionally, Pittsburgh has a relatively dense public transportation system (for a U.S. city), although one has to cope with several idiosyncrasies of the transit system.
Taking advantage of being in the U.S., I visited Boston and ran the Boston marathon. It was a great experience getting to run in the oldest marathon race and enjoy the huge crowds along the course? plus I was able to improve my personal record significantly. Additionally, it was nice to see some of the most important historical sights of the United States.
Overall, it's great to participate in the interACT exchange program and I can highly recommend it.
April 2011 - Paul Maergner - CMU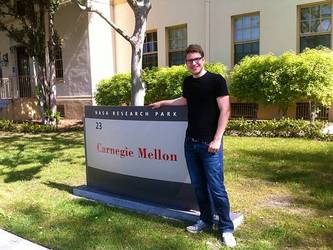 I am a computer science student from Karlsruhe (Germany) and I am currently working on my diploma thesis at the Carnegie Mellon University Silicon Valley Campus. The CMU-SV is a great place to work. It is located at the NASA Ames Research Center on Moffett Field in California. The campus here is small. Only two buildings are part of the CMU-SV campus. Therefore, the campus life here is different from other US colleges: No undergrad students, no sport teams, only computer science / software engineering / software development students. But this has also advantages. It is easy to know everybody and you can get in touch with nearly every professor very fast. Every Wednesday all staff and faculty (exchange student count in this group) are invited to a free lunch. At this lunch, the CMU-SV feels like a large family.
Before my arrival, I contacted two students from Karlsruhe who are currently at the CMU-SV and one researcher at the CMU-SV. They helped me with my preparation and especially with finding a place to stay. I was lucky that the first place I found was really good. It is a house in Sunnyvale and I live there now with the two other students from Karlsruhe and my landlord. Everyone has his own room. Living room and kitchen are shared.
After the first month, I finally found a used car which I bought. Having a car is not necessary but I think you miss a lot if you don't have one. With a car, it is easy to visit all the great places which are around here: San Francisco, San Jose, Stanford, Berkley, the Pacific, and many beautiful national parks. I really like the Californian countryside. Here are nice beaches, impressive cliffs, and huge redwood trees. Everything seems a lot bigger than in Germany.
The Silicon Valley is a great place to be as a computer scientists. Many important computer companies have their headquarter or at least some developers here. Especially in the first weeks it was impressive to just drive by all this big names like Google, Apple, Microsoft, Facebook, Nvidia, and so on. If you know some people at these companies, it is easy to visit the buildings. And getting to know people is not difficult here. Every week there is at least one tech talk at the CMU-SV campus and there are meetups.
Meetups are meetings of people with similar interests. Around here are especially many technical meetups (www.meetup.com). For example there is a meetup were iPhone developers meet. They usually invite a person to talk about technical stuff which is interesting for iPhone developers (and there is free food). These meetups are great to get to know new people.
Being here at the CMU-SV, in the Silicon Valley, and in California is great experience. I have learnt very much here, and I have a lot of fun. I want to thank the whole interACT team and all my supervisors, who made this great time possible. Thank you!
March 2011 -

Armagan

Kilic

-

USC
I am studying master informatics at Karlsruhe Institute of Technology and currently writing my master thesis on modeling of software architectures at the University of Southern California (USC) in Los Angeles. Prof. Reussner from KIT and Prof. Medvidovic from USC have been my advisors.
During my research I was participating in research activities of Prof. Medvidovic. In weekly research group meetings I gave a short report of my studies and got useful feedback from others. Besides, I got the chance to participate in a software engineering talk at University of California, Irvine (UCI), several workshops and the annual research review of the computer science department. I also joined to Google's Open House Event for PhD Students in Santa Monica.
With the support of Prof. Medvidovic and the students in the research group I have experienced: reading the right research papers in my field, the importance of asking the right questions with a wider or different perspective on problem solving, how to present and defend my research ideas in a specific and scientific way and how to review a research paper.
USC is a big campus located near Downtown Los Angeles. Like others the campus has many facilities; such as restaurants, cafes, recreation center so on. Of course like other famous universities, it has lots of foreign students coming from all over the world. I rented a room in an American-style house near the campus in order to have easy access to the student life, to all these facilities and libraries.
Los Angeles, which means the city of angels, is actually a city of people having many different cultures. Not only being a world city, Los Angeles is a big region located near the Pacific Ocean which gives the impression of infinity to the city, encompasses the famous places, beaches and neighborhoods like Downtown L.A., Santa Monica, Beverly Hills, Venice Beach, Long Beach, Pasadena, Hollywood, Universal Studios. It was so exciting that I could reach to these places in minutes. On the other hand, driving to the world-renowned cities such as San Francisco, Las Vegas and San Diego in a few hours was a great opportunity.
I would like to thank to the interACT-team providing me this opportunity to enhance my personal and academic life. And, I can highly recommend this exchange program to every student.
August 2010 - Lisa Hofmann - CMU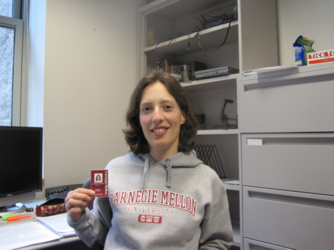 With interACT and my professor Mr. Hartmut Schmeck (AIFB), I got the great opportunity to write my diploma thesis with my advisor professor Katia Sycara at the Robotics Institute, Carnegie Mellon University, Pittsburgh.

The topic of my thesis is about game theory in robot swarms. I set up a model to simulate game-theoretic interaction between robots with concurring joint and individual tasks (e.g., jointly cleaning a room vs. saving energy) in order to find out about long-term behavior of the swarm. Also, I will hand in a paper to the renowned AAMAS 2011 conference.
CMU offers a great working environment: I have nice colleagues, good equipment, can work self-determined and I get to know so many interesting people within this international community. Also, sports facilities are great and in the evening, there a lots of people available for playing soccer or squash. Also, you should not miss the great plays of the CMU School of Drama, which offers one of the leading programs for acting in the United States.

Pittsburgh is a real "hidden gem": I didn't have any expectations, but the city turns out to be most liveable. Unlike one might imagine, the city is green and has a lot of parks where you can find deer, raccoons, groundhogs and even snakes. The museums are great, even for European standards, and the view of the skyline is beautiful day and night. The climate can be quite tropic in summer and still there is snow in winter. Also, I can ride to supermarkets and school by bike or public transport, which is by far not usual for American cities. I really love this town!

Luckily I have already had the chance to travel quite a lot as one always finds people to fill a car on weekends. I have especially enjoyed to visit Detroit, which has become a city of young artists, and of course D.C. with its multicultural community. For outdoor-lovers I recommend rafting in the New River in West Virginia. Also, Fallingwater, a house designed by Frank Lloyd Wright, is absolutely worth going. After my stay I will use the opportunity to travel South America.

All in all I absolutely recommend choosing CMU, as the school, people, city and country will offer you so many new and valuable experiences. I want to thank interACT and my professors for making this possible for me!
June 2010 - Thanh Le Nguyen - CMU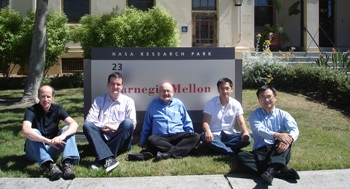 I was given the opportunity to work on my diploma thesis at Carnegie Mellon University, Silicon Valley Campus (CMU SV) through the interACT exchange program. My thesis was in the area of Probabilistic Inertial Navigation and I was advised by Professor Joy Zhang.
As the first KIT student coming to CMU SV, I expected many complications, since the interACT exchange program was less known on the Silicon Valley campus. Despite this fact, I was pleasantly surprised by the CMU SV staff members who helped me with the needed paperwork and the smooth integration into the new environment. In the first few weeks, I was personally introduced to the whole faculty, staff and students community on the campus. Since CMU SV is a relatively small campus, I was able to get in touch with all professors on the campus and learn about their exciting research areas.
The main reason why I chose CMU SV was the location of the campus. It is situated in the center of Silicon Valley, only a few miles away from the headquarters of Google, Facebook, Apple and other major tech companies. Besides these big corporations, Silicon Valley is well-known for its startup culture. Everyone I spoke to was either working in a startup, founded a startup or was planning to start a startup at some point. Many people are talking about "the next big thing" that they are going to build. Almost every day there are so called meetups, where people with the similar interests meet and discuss the newest technology trends. I believe that Silicon Valley is the best place to be when you want to work on the most innovative technologies.
Besides the exciting tech culture, Silicon Valley and in general California has much more to offer. The nearby San Francisco is a multicultural city well-known for its Golden Gate Bridge, Alcatraz and China Town. The beautiful beaches of Santa Cruz and Monterey are only an hour drive away. With a car you can also easily reach Yosemite National Park, Los Angeles or Las Vegas.
I would definitely recommend everyone to come to CMU SV. It was an unforgettable time for me and I would like to thank interACT for this opportunity. 

April 2010 - Fabian Fuchs - CMU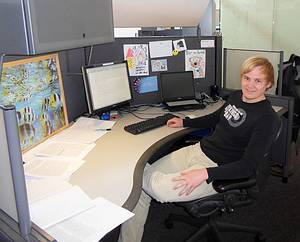 I am currently visiting Carnegie Mellon University in Pittsburgh, to write my study thesis. I am writing my thesis about preprocessing in route planning algorithms, in detail it'll be a mostly theoretical work on landmark selection in the ALT algorithm.

Even though it was on a short term notice, that my stay here in Pittsburgh will be possible (I found out in December), it was possible for me to get my visa and stuff organized until the end of January. It has been a bit crazy and bustling from time to time, but everything worked out well and Kelly Widmaier was a great help on all the questions I had!

My stay in Pittsburgh started very well. For the first weekend I slept on a couch I organized via Couchsurfing. I can only recommend using Couchsurfing, since I made some very good friends on this first weekend. Also it is convenient to have a place to stay for the first days, so you have enough time to visit some rooms (appointments should be made prior to the trip, when possible).

Here at the office we have a bunch of very kind people working on different things, most of them of course on speech recognition. We have a great equipped workplace here, which has enough space to spread out everything one works on and additionally can be decorated as one likes (probably, Kelly would love to help with that).

In my spare time, I often go to the climbing gym. I am there about three times a week and made some friends there. I am planning to go on some climbing trips with the CMU Explorers as soon as the weather allows that. I also attend some other sports, e.g. playing soccer or Obscure Games Pittsburgh. I suggest everybody to think about purchasing a bike for the stay
here. Even though the city is not as plain as Karlsruhe is, for me it seems to be better than waiting for the buses all the time. And, you get rid of the pounds you gained eating the enormous amounts of fast food!

I had a great time here in Pittsburgh and at the CMU so far. I am really enjoying being here and can only recommend the interACT program to everybody!
Thanks for making this possible, interACT-team!
March 2010 - Manuel Mohr - CMU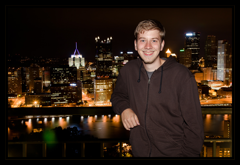 I'm currently in the last semester of my computer science studies at Karlsruhe Institute of Technology and went to Carnegie Mellon University in Pittsburgh to write my diploma thesis. I hadn't spent a semester abroad during my studies before, so when I first heard about the interACT program, I thought it would be an ideal opportunity to catch up on that front. At first I thought you could only write your thesis in the area of natural language processing or robotics but, as I soon found out while investigating further, that's actually not true at all. You can write about anything computer science-related, as long as you provide an advisor at KIT and a second advisor at your foreign university of choice. Given that I'm interested in programming languages and compiler technology, I asked Prof. Snelting at KIT whether he knew a colleague at CMU. As it turned out, he did, and getting in touch with Prof. Aldrich at CMU as well as working out a topic that both agreed upon advising was surprisingly easy. So if you're thinking about writing your thesis with interACT but can't find someone on this page that has already written their thesis in your desired area and thus established the necessary contact, don't let that prevent you from going abroad.
After going through the visa application hassles that are thoroughly described in the interACT wiki, I contacted a landlady whose email address I had gotten from a former interACT exchange student. Luckily, the landlady had a free room available. This was probably the best way to find a room because only very rarely someone rents out a room a few months or weeks in advance on Craigslist or similar platforms. Most rooms are "available as of now" and you probably won't have much success with writing emails from Germany about being interested in the room with no way of actually getting there and taking a look. So, with the room problem out of the way, and after booking the flight, I was all set.
I didn't know much about CMU and Pittsburgh when I applied to interACT. Of course, CMU has a stellar reputation but other than that, I didn't know what to expect. As it turned out, I could have expected a lot and still wouldn't have been disappointed. From the first day, my advisor at CMU integrated me into the activities of his chair. And this can be taken literally, as I took part in a workshop on my very first day in Pittsburgh. As I quickly found out, I'm not working on an isolated project but, quite the contrary, my work is tightly integrated with what the others are doing. This certainly brings its own set of difficulties but, all in all, it makes working on the project much more worthwhile. For example, being able to discuss technical details with native speakers on a daily basis improves your language skills immensely.
Pittsburgh turned out to be a really cool place to live. Because CMU isn't located in downtown Pittsburgh, the whole area around the university is really green and it doesn't feel like you're in a big city. Still, Pittsburgh has a nice skyline with quite a number of skyscrapers, which is just a short bus ride away. Additionally, Pittsburgh's location in the Northeast makes it a great starting point for traveling. New York, Washington DC, Chicago and Niagara Falls, to name a few, are within driving distance and well worth a trip.
I do not regret my decision to write my diploma thesis in Pittsburgh at all and can only recommend anyone interACT and going abroad to write your thesis in general a try.
January 2010 - Matthias Vogelgesang - CMU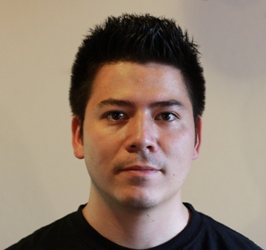 I am studying computer science at Karlsruhe Institute of Technology (KIT). Currently, I am writing my diploma thesis about the parallelization of the Janus speech recognition decoder at Carnegie Mellon in Pittsburgh in cooperation with Prof. Florian Metze who is a nice and supportive advisor. In general, staff and faculty members are eager to solve any problems that one might encounter. Especially at the beginning, it took a while until I was fully setup for work.
Settling in was smooth and without problems, thanks to all the helpful advice found on the interACT homepage. I rented a room in the unofficial "interACT-House" before I went to Pittsburgh, from a very friendly landlord. It is located in Squirrel Hill, which is a quiet neighborhood and within a 1.5 mile walking distance to the interACT lab. One tip: you should take the shuttle bus from the airport to the center, the ticket is an order of magnitude cheaper than a cab ride.
Getting around Pittsburgh is a bit tricky, because the public transportation system is a sometimes unreliable. Therefore having a car or knowing someone who has a car is convenient way to get around. Renting one is not that expensive and a good opportunity to see more than just the Pittsburgh area. Some easily reachable destinations include the Washington Area, New York and the Niagara Falls at the Canadian border. If you don't mind roller coasters, the Cedar Point amusement park in Ohio is definitely worth going to.
Even if you stay in Pittsburgh, there is plenty to see and explore: the many museums, Jazz in Downtown, the Penguins, Steelers and Pirates and last but not least the night life in the Strip District.
I'd like to thank the interACT people for making the stay and my work possible and encourage everyone who wants to see and feel American culture and society to apply for this exchange program.
December 2009 - Feijun Jiang - UKA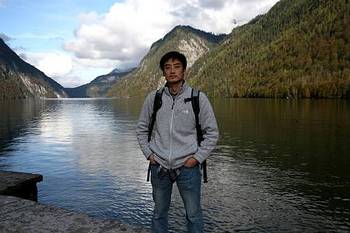 I study Electronic and Computer Engineering at Hong Kong University of Science and Technology, Hong Kong and I am now visiting UKA for writing my doctoral thesis on Integrating Multiple Visual Cues for Face Detection and Recognition. With the help of the experts on face detection and recognition at the Institut of Anthropomatics my research is going on smoothly.
I met lots of new friends here. They supported me to find an accommodation prior to my arrival. At the lab, people are really friendly and willing to help. They helped me to setup my computer and to get familiar with their computer vision system. They shared their experience on face detection and recognition and gave me a lot of advices on my topic which were helpful during my research. Especially, I want to thank our research assistant of interACT Ms Anja Knauer. She is really nice and very helpful.
I have been in Karlsruhe for two months, and everything is going well. The process of the visa application is very simple. The city is very friendly to foreign students. I extended my visa at school. It only took 3 minutes. The Office of the City Hall gave me a semester ticket for free and with it I can take any bus and train within the region for six months freely.
I am favourably impressed by the public transportation system in Germany. The busses and trains are always in time and the network covers the whole region. Riding a bike is also a very good option for transportation. In Karlsruhe there is a very beautiful forest, where you can enjoy riding a bike. The living costs are relatively low.
In my leisure time, I like to visit famous European cities. Europe is a really good place for travelling, and Karlsruhe is allocated in the center of Europe. From here you can travel to most of the European cities with great convenience. I took a train to Holland and the journey took only five hours and five hours to Austria, and the flight to Barcelona took only one and a half hour from a local airport. Around Karlsruhe there are a lot of beautiful sights, such as the famous Black Forest and the Bodensee.
It is really nice to participate in this exchange program. I experience a totally different culture. Working in a lab of computer science gives me more an idea about how the people in this discipline solve the problems, and I benefit a lot from it.
November 2009 - Thomas Lichtenstein - CMU

Since late September, I have been visiting CMU to write my study thesis. I am interested in the field of peer-to-peer networking and distributed storage and applications.
In preparation for my stay, I followed the helpful advice on the interACT homepage on how to apply for a visa. Looking back, the overall process is less a burden than I first thought. When I had any questions regarding the process, I got a quick helpful response from either the German or American interACT office. I would also recommend any future exchange student to get in contact with Kelly as early as possible, as she will be glad to give you up-to-date information on housing and help you further with any questions regarding your stay.
During the first week of my arrival, the G-20 summit took place in Pittsburgh, which made it practically impossible to find an accommodation on craigslist.com. Luckily, a fellow interACT student helped me out and offered me accommodation for the first week. When the dust settled, I soon found comfortable housing for less than 400 € per month located in Squirrel Hill within a 30 minute walking distance from the office. Judging from what I know from my colleagues, you can find cheaper places to stay, but paying around 360 €/m is quite common.
Most of the students find housing within a 1.5 mile range around CMU, which is the same area the nightly free-of-charge escort shuttle service will conveniently and safely drive you home.
The atmosphere in the office is very welcoming and productive, filled with kind people and well-equipped work spaces. The students are free to work on their own time schedule, so if you like to come to the lab early in the morning or stay late into the night, that's up to you. Also, my advisor is giving me very helpful directions in the progress of my work and I meet him every other week.
In my spare time, I like to work out at the University's sports facilities like the gym or the swimming pool. They are free to use and at the same time, can be compared with commercial standards. Doing sports can also be a good way to compensate the usually heavier eating habits that you will have difficulties to avoid.
As Pittsburgh is home to some bigger Universities, you can find a rather decent night life to enjoy in your leisure time. It's quite easy to get to know locals there. If you play any sort of instrument you can find open stages, a lot of bars and some clubs.
Furthermore, doing a weekend trip to Toronto, for instance, is really worthwhile. It's a 7 hour drive and on the way there, you can stop by the fascinating Niagara Falls.
Already, my stay has exceeded my expectations with still a couple of months to go. I would recommend everyone to take advantage of this academically, as well as personally rewarding experience. I would also like to thank the interACT staff very much to make this exchange program possible.
August 2009 - Simon Friedberger - CMU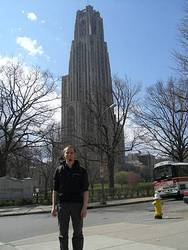 I am currently visiting Carnegie Mellon University to write my diploma thesis. I am working in the field of video processing for food recognition. The goal is to eventually enable a computer to assess the diet of a monitored person to fight obesity.
The work environment at CMU is great and settling in was a very smooth process. Co-workers and staff have been extremely welcoming and helpful even to the point of privately providing accommodation for the first weeks. CMU provides a host of services including various restaurants on campus and, most notably, a shuttle service that takes those who work late home. It is available every day of the week for the entire night. Supermarkets that are open 24/7 complete the perfect experience of working on one's own time.

In my leisure time I greatly enjoy the sports and recreational facilities CMU offers. I attend classes in Thai Chi and Tae Kwon Do. Combined with the opportunities to go swimming, work out at the gym, play racquetball or just play pool that CMU offers completely free of charge this makes for a very busy schedule.

Additionally on Tuesdays I usually meet some other people from the lab in the bar around the corner. Several former and current lab members and friends are regulars there. It was established to make it easier for us to get to know each other and the locals, and has been very successful at that.

On Thursdays I sometimes attend the "Stammtisch" of the German Club of the University of Pittsburgh which meets in a Cafe right across the street from our building. It is a group of students who meet and practice German for the evening and has also proven a great way to meet locals who in turn are happy to have a native speaker to ask questions every now and then.

On top of all that I have discovered a love for climbing. CMU's Explorers Club has helped to get me started by lending me equipment and introducing me to the local climbing gym. I now try to be there at least 2 days a week and have gotten to know several people. This also gave me the great opportunity to accompany them on some outdoor climbs in Coopers Rock State Forest in West Virginia and enjoy the wonderful landscape there.

In conclusion I am having an absolutely fantastic time here and can only urge any- and everyone to participate in InterACT or a similar exchange program.
Many thanks to all the people involved for doing this for us!
July 2009 - Martin Herrman - CMU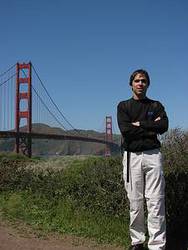 I am currently working on my diploma thesis at the Carnegie Mellon University of Pittsburgh. My work is about robotic perception for the Personal Robotics project of Intel Research Pittsburgh. Except for some problems with the immigration paperwork, which the OIE helped to resolve, arriving here has been fairly unproblematic. I found a place to live through the InterACT mailing list. It is located in Squirrel Hill, within a 30 minute walking distance from campus.
CMU offers a lot of activities to its students. In addition to exercising facilities like gyms and a pool, which can be used free of charge, there are also a lot of student groups like the Robotics Club, the Photography Club and the Explorers Club, which organizes various activities like climbing and skydiving.
Although most important places are within walking distance from campus, owning a bike is advantageous because public transportation can be a bit unreliable. But there are also some nice bike trails around Pittsburgh.
June 2009 - Clemens Siebler - CMU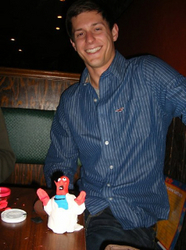 I am a computer science student from the University of Karlsruhe and I am visiting Carnegie Mellon University for writing my diploma thesis. I arrived about three months ago and have enjoyed every day since then. At first, It took me a little time to get accustomed to the American culture and the way of living. Most of the people in Pittsburgh are a little more laid back than the people in Germany. This does not mean that people are not working or having lots of spare time, but it implies an overall working atmosphere that is very relaxing and pleasant.
CMU is a great place to study and offers many possibility for its students. On the one hand, one has the opportunity to learn from skilled people and therefore improve your own knowledge, especially in hot research topics. On the other hand, CMU provides great opportunities for its students to spend their spare time. The sports activities that are offered are outstanding compared to those that German Universities offer.
Finding a place to stay can be difficult, but I got in touch with other exchange students before I arrived and by doing so, I found a place to stay for the first nights. Luckily, my host decided that I could move in permanently. Squirrel Hill and Shadyside are two really nice neighborhoods that aren't too far away from CMU. They both offer good possibilities to buy groceries, are affordable and have lots of places to eat. To get to the lab, I prefer to walk - which takes about 30 minutes - but since you will gain weight pretty easily over here (delicious fast food), this might be your best choice! A really nice thing is that CMU offers an escort that collects all the students from their institutes and brings them back home in the evening.
I personally think that it is really important to get to know at least a few Americans (and as fast as possible). Most of the people in Pittsburgh are very nice and it is easy to make new friends. They can show you places, that one alone might not have figured out. Since it can be difficult to reach certain places without a car, make sure you prefer to make friends with people that own a car! ;-)
Right now I'm looking forward to traveling to some of the places that are not that far away from Pittsburgh, for example the Niagara Falls and New York City - since domestic flights aren't that expensive, I'm also planning to see some cities on the west coast.
I highly appreciate that interACT offered me that great opportunity to travel to the United States and to work at CMU! Thank you all!
May 2009 - Johannes Meng - CMU
 

 

 
Hey everyone!
I'm currently writing my Studienarbeit at Carnegie Mellon University. I've been here for almost a month now, and life in Pittsburgh has been great so far!
As with most exchange students, my biggest concern before I came here was finding a place to stay. I ended up staying on a randomly chosen couch for the first nights (www.couchsurfing.com), which gave me some time to get over my jet lag and get all set up at my office. Then I found a room to rent on a weekly basis and moved there, so that I could take my time looking for a permanent place. A great place to find classified ads is craigslist, and most students looking to sublet a room will advertise it there.
Generally, good areas to live are Shadyside and Squirrel Hill. Those are clean and green, although a little expensive. One of the big advantages, though, is the free CMU shuttle/escort service. Those buses will take you anywhere in a 1.5 mile radius around CMU, so you don't have to buy expensive bus passes just to get to work. Also, both neighborhoods are within walking distance from CMU. I settled for a place in Shadyside, and I need about 30 minutes from my bed to my office - awesome.
Most interACT students work in the interACT lab on South Craig Street. This is a great location, because there are lots places to eat, but it is at the very edge of campus. Some students, however, don't work there. My office is in the main computer science department building, because my advising professor at CMU isn't really connected to interACT and he took care of organizing a desk and such. As a great side effect, I get to live the stereotypical computer science geek life: my office is in the basement, has no natural light and I can't hear any bird songs distracting me from more important matters such as reading that pile of papers on my desk. Now this sounds a little depressing, but it's really not all that bad. It actually is very easy to concentrate down here, and the interACT lab (including free coffee and fellow students) is just five minutes away.
Talking of distractions: CMU has great sports facilities. There is a nice pool, several gyms, racquetball/squash courts, and so on. The only thing one needs to use them is a valid ID card, which everyone should get during their first days at CMU. Towels are also provided, so you don't have to bring your own. Also, there are fun events such as the annual Mobot race, bands playing on campus, free food for whatever reason and a lot of interesting talks worth attending.
I haven't seen alot of Pittsburgh apart from the neighborhoods around CMU (Oakland, Shadyside, Squirrel Hill - that's still a huge area), mostly because finding a nice place proved to be more time consuming than expected. There are many things to do here, though, and I'm planning to take advantage of that in the future.
I definately reccommend applying for the interACT exchange program. You'll get to live in a foreign country for a while (always a good thing), you'll meet loads of great people and on top of that, you can do research at one of the top universities in the field. Keep in mind, if you'd rather see something else than Pittsburgh, you might also apply for going to Hong Kong or Tokyo!
Bottom line: Great exchange program, great university, great fun. Thumbs up!
February 2009 - Alexander Fritz - HKUST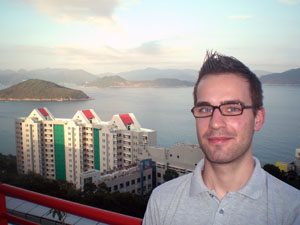 I am a student of Information Engineering and Management currently working on my Bachelor thesis at the Hong Kong University of Science & Technology. I am very glad that I took the opportunity to apply for the interACT exchange program, since it is in my opinion fruitful and interesting to do research in a new environment abroad. Furthermore, regarding the Bachelor/Master courses it has become harder to organize a regular exchange semester without losing time. Working on a thesis abroad is thus an excellent tradeoff.
Besides having all kinds of accommodations like bars and restaurants on campus, it is easy to get to Hong Kong Central using a minibus and the MTR afterwards. There, you can dive into the nightlife of one of the biggest Asian-European cities, with a great diversity in cuisine and entertainment. I personally love the seafood here :). Of course making a harbour tour and climbing Victoria's Peak is a must. The view over the city is breathtaking.
Another fun thing to do is renting a bicycle and riding into the New Territories with its nature reserves and small fishing villages. It is as if you are hours away from Hong Kong Island. While you are out there in the north of Hong Kong, take your time and visit the 10.000 Buddhas Monastery, a really beautiful place. Located near the airport is the biggest outdoor Buddha statue of the world, which you can reach by taking a 15min ride with a cable car while enjoying the landscape of Lantau Island.
If you come to stay longer here in Hong Kong than I do, think about visiting other sites of China, like Beijing or Shanghai. You could also go to Taiwan or Vietnam. You may even consider traveling to Tokyo, which is only a four-hour flight away.
For the remaining one and a half month I plan to visit the next biggest city of mainland China, Shenzen, and go to the south of Hong Kong Island. Otherwise I intend to finish my student research paper before Christmas and enjoy the holidays at home.
October 2008 - Fabian Blaicher - CMU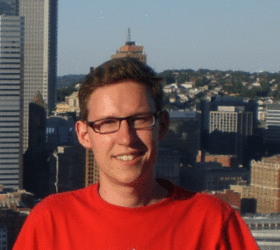 Working as a visiting scholar at interACT is very exciting. Carnegie Mellon University offers a unique research environment with smart people and close relations to companies. It has several research laboratories in cooperation with big firms like Google, Intel and others. There are frequent talks by company researchers, researchers from other universities or from CMU researchers. These talks offer the opportunity to learn more about state of the art technologies, not just in your own research area.
I wrote my study thesis at interAct about a new Full-Windshield Head-Up Display. The work was done together with a large American automotive manufacturer. The aim was to increase thesafety and convenience for the driver through smart computer assistance. The new head-up display allows enhancing the vision of the driver with information, not visible to the driver, by displaying data gathered by sensors, like cameras, to the windshield.
My computer vision team had a reading group every Friday whereinteresting papers were presented and discussed. The meeting was also attended by professors and researchers fromthe University of Pittsburgh. It was always a great opportunity to broaden the knowledge of all participants.
The University is surrounded by the nice neighborhoods:Oakland, Shadyside and Squirrel Hill. Apart from the inspiring atmosphere in the Lab and the exciting people at CMU, there are also a lot of social activities going on at CMU. Furthermore every student and employee has the opportunity to use thesports facilities, like a pool, Jacuzzi, gym, and so on...
The city of Pittsburgh is a good starting point for trips to the Great Lakes and the east coast. I made trips to different cities on the east coast like New York City. This city is definitely worth a visit. I also recommend visiting one of the many sports events in Pittsburgh. The games of the football team, Steelers, the hockey team, Penguins or even the notoriously bad Pirates, are definitely worth a visit. Pop Art fans will love the large Andy Warhol Museum. It has many great original works from Andy Warhol and also small exhibitions from other contemporary artists. He lived the first years of his life in Pittsburgh.
I see my stay in Pittsburgh as very valuable and would recommend others to study or work at a top university in the United States. Pittsburgh itself is not the city which will impress someone at first sight, but once you stay there for a while, you will like it!
September 2008 - Franziska Kraus - CMU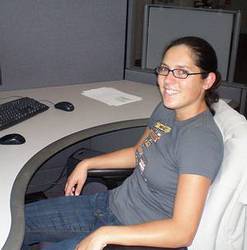 I am a Computer Science student from Karlsruhe visiting CMU in order to write my study thesis about food recognition. I will be staying in Pittsburgh for three months and I've already been here for about six weeks.
My study thesis will be about some part of a big project concerning the problem of obesity which is a quite serious problem in the United States. My workplace is in the interAct lab like it is for most of the German interAct students.

After arriving here, I had to discover unfortunately that finding a place to stay isn't that easy in August. It's like every university environment: everybody is looking for a room at the beginning of the fall semester (which starts in the middle of August) and also, everyone is looking for a long-term roommate, which means at least six months. But finally I found a place to stay. Because of the difficult housing situation, every interAct student stays with the same landlord right now.

After finding a room I was able to focus more on the working part of my stay. The location of the interAct lab is really good. There are all kinds of eating places just along the street, and it's just a 10 minute walk to CMU campus with all its sport and recreational facilities. In the opposite direction is the heart of Oakland, where the University of Pittsburgh is located. Of course that means another broad choice of food places, bars and small clubs.
And another great thing at CMU is that you don't have to worry about getting home at night, because there is an all-night escort service, which stops right in front of the lab and serves a 1.5 miles circle around CMU campus. (That pretty much means all of Oakland, Shadyside and Squirrel Hill).

So far I enjoyed my stay in Pittsburgh very much. I already got to see some parts of this really nice city, like the areas surrounding the university, downtown Pittsburgh or Southside, which offers a lot of different possibilities to spend your evenings. But still I didn't manage to go to any of the many museums or any other cultural events.
Outside Pittsburgh, I spent two long weekends in New York City and Los Angeles. Both of these huge cities have nice things to see. Compared to New York, the city of Los Angeles isn't that great, but of course Venice Beach and Santa Monica Beach are definitely worth a trip.
In regard to travelling, Pittsburgh is in a really good spot within the United States. Within a six hour car drive you can reach New York City, Boston, Philadelphia, Washington DC, Chicago or the Niagara Falls.

For the remaining two months I hope that I will see a lot more interesting things and that I will be able to finish up the practical part of my study thesis.
August 2008 - Patrick Armbruster - CMU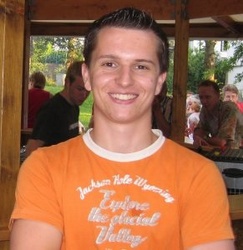 As most other German students here in the interAct lab, I am a computer science student from Karlsruhe. By now I have been here for six weeks and I am really enjoying this foreign experience. Since my stay is only for three months in order to write my study thesis, half of my time here in Pittsburgh has already passed.
When I arrived in Pittsburgh in July, most important for me was to find accommodation as fast as possible, which proved to be harder than expected because my stay was only for such a short period of time. Most landlords wanted to rent their apartments or rooms at least for a time of six months or even more. But sooner or later one will find an appropriate place to stay, as I did when there happened to be a free room in the house of another interAct student.

For not going hungry, there are plenty restaurants and bars in the proximity of the interAct lab. We usually tend to visit one of those at lunchtime, and now and then also in the evening. There are also some food-trucks on the other end of the CMU campus, about a 10 minute walk away from the lab, where you can have a very affordable meal.

In the late hours there are lots of things to do: Watching a movie in the cinema, going to restaurants, bars and clubs. Many of them are in walking distance from the lab, located in Oakland. If you want to go to a club on South Side or Downtown Pittsburgh, public transportation, like bus or taxi, is the mean of choice, unless you have a car.

So far I can say that I really enjoy my stay here in Pittsburgh, my work at the interAct lab and the plenty opportunities here for meeting new people and to have a good time.
July 2008 - Stefan Gaertner - CMU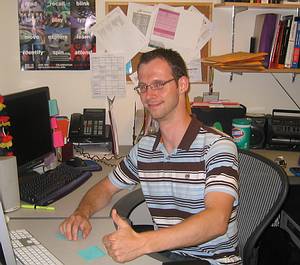 I am a computer science exchange student from Germany, visiting CMU for eight months to work on my diploma thesis in the field of robotics and human motion capture. My advisor at CMU is Jessica Hodgins and I sit in the CMU Graphics Lab which is located in Newell-Simon Hall. Working at CMU is a lot of fun for me and I have had plenty of new experiences so far. Every Tuesday evening I attend CMU Graphics Lab meeting, which is kind of dinner with a talk about a topic related to graphics and motion capture afterwards, given by a member of the lab. I also gave a presentation about my previous work at IAIM in Karlsruhe a few weeks ago. These meetings are a good opportunity to gain knowledge in other fields of research and to meet people from around the world in a very relaxing atmosphere. My only complaint so far is that we don't have any windows in this lab, which is sort of depressing at times, especially if the sun is shining outside.
As I heard of Pittsburgh the first time, I had a very smoggy, working-class, industrial city in my mind. But these days, after Pittsburgh was reinvented in the eighties, it is far away from this kind of city. I guess it's just a rumor anymore. If I think about Pittsburgh now, after passing three month of my stay, I have a lot of very nice memories in my mind. These memories are about plenty of parks and open air events, museums and, of course, about the second most beautiful view in America according to "USA Weekend". Hopefully, I'll never forget the nighttime view from Mount Washington, the steep hill that rises on the city's south side. From there you can enjoy the unforgettable panorama of the Allegheny and Monongahela rivers flowing together to create the mighty Ohio which was an essential waterway in the nation's settlement. At night, lights twinkle on no fewer than 15 bridges.
Pittsburgh is located in Western Pennsylvania and just a few hundred miles away from NYC, Washington DC, Chicago, Boston and Ohiopyle. Thus, I took the opportunity to visit most of these cities during may stay so far. And I can tell you, exploring the East of the US is an experience you will never forget. Especially if you do it like I did with really nice people that I met through Interact, my lab and PCIV. But actually, Ohiopyle is a state park in the south of Pennsylvania and it is a beautiful resort to relax from stressful weekdays at CMU. They have camping facilities there and offer a huge bunch of outdoor actives including whitewater rafting, mountain biking and so on. For when you need a break and don't want to drive 80 miles, CMU offers plenty of activities from concerts to on-campus movies, theater, dance or sportive offerings like squash, tennis, basketball, full gym and a pool.
A lot of people in Pittsburgh, especially exchange students, complain a lot about the public transportation system in Pittsburgh. And maybe they are right, since public transportation is way better in Europe. But for me it works very well, although I have to take the bus at least twice everyday because I live in Highland Park, which is 20 minutes away from CMU by bus. But the point is that the bus is mostly just in time, goes until 2am and bus drivers are really kinds as well as the buses are clean. Having a car is convenient of course, but just think about the environment. In the summer, it is also possible to buy a bike very cheaply, which in addition has the advantage to keep you fit and healthy.
Concerning health, I still have to make a complaint about American food in the end. I'm serious-I can't eat fast food anymore. Most of the stuff I can afford to eat in Oakland is very greasy and just keeps me alive. Cooking seems to be a reasonable alternative, but needs a lot of time which I have to spend in research in order to develop mankind. So, I don't want to be selfish.
Overall, I have really enjoyed the exchanged so far. From the first day, my stay was organized very well and I think I have learned something about Americans and their way of life (and, of course, work).
June 2008 - Lorant Toth - CMU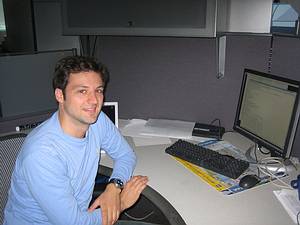 I am a computer science exchange student, visiting CMU for six months to write my diploma thesis. The first half of my stay has already passed and I would say that I have become fairly accommodated by now.
I really enjoyed my stay so far. Pittsburgh may have a reputation of being a working-class industrial city but it has changed and is one of the most affordable cities in the US with a high standard of living. The CMU neighboring districts Squirrel Hill, Shadyside and Oakland are nice and great to live in and there is a sizable downtown district with a great view from the Incline.
One thing I like a lot about Pittsburgh is that it does not feel quite as large as it is. Although the metropolitan area is huge, there are plenty of parks and green, especially around CMU, and decent public transportation. Additionally, Pittsburgh is situated well between Chicago, Niagara Falls, Washington, Philadelphia and NYC and allows for great weekend trips to those cities. On the other hand, other larger cities may have to offer more culture or nightlife but after a bit of exploration I found that Pittsburgh actually has a lot to offer - museums, sport events and for going out.
My only complaint so far is that at times certain places are quite hard or inconvenient to reach via public transportation as everyone seems to have a car and a dependable bus schedule seems to be non-existent at times.
Attending CMU has also been great so far. From the first day my stay was organized well and I was taken care of. As it is to be expected the facilities are very nice and the learning atmosphere is great. I especially enjoy the excellent availability of support by supervisors and professors due to a good student to professor ratio. There's always someone to help with your work or other things if you need it.
For when you need to take a break and relax for a while CMU offers plenty of co-curricular activities, be it the student activities from concerts to on-campus movies, theatre, dance or a plethora of sportive offerings like squash, tennis, basketball, full gym and a pool (from morning to midnight!). Another great thing is that the local exchange students get along well. New students are usually integrated quickly, with the old guys showing the new ones around and giving tips or helping out here and there. That usually ensures a quick accommodation and partners for the weekend trips. Unfortunately, we actually do tend to speak German a lot. On the other hand, that circle includes other foreign nationals and Americans too but it tends to be easy to get carried away and to keep talking German most of the day and one has to pay a bit of attention to avoid it. But there is no need to worry because there are many opportunities to practice English.
Overall I have really enjoyed the exchange so far. The studies are getting along well, I feel that I have learned about the American culture and I have had the opportunity to travel quite a bit too.